I prepared the bike on my own. I wished to have it simple, sturdy and made of parts that would be easiest to replace with substitutes found on African market. Doing that, I have gained much of practical knowledge about bike building, which – I hope not – would be useful in case there are troubles.
The frame, crankset and front derailer came from Wheeler 6600 bike, dated 1993. These were the golden years of steel-framed MTB. Mine is assembled of double-butted Cro-Moly pipes, lugged and brazen with brass. A piece of excellent craftsmanship. Of course, I had it sandblasted and powder coated black.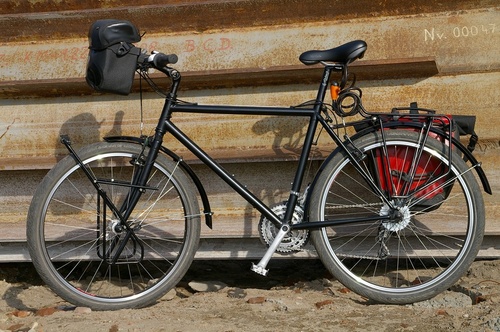 Still clean and shiny
I decided to use 8-speed rear cassette. In Europe this standard is already vanishing, but the long history of manufacture of compatible cranks, sprockets and chains make me think it's the most probable standard to encounter in Africa.
The other parts I tried to get from higher Shimano groups: both hubs, rear derailer and the chain are Deore XT; cassette and bottom bracket – Deore LX. I built the wheels with my own hands and help from guru Sheldon Brown, using heavy-duty downhill rim Alexrims DM24.
The tyres are Schwalbe Marathon Supreme, which I intend to replace with Marathon Extreme before hitting African off-road. Racks are Cargo and Ergo models from Tubus and panniers came from Ortlieb.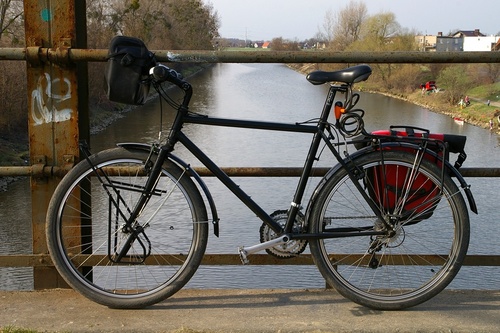 A short ride along a river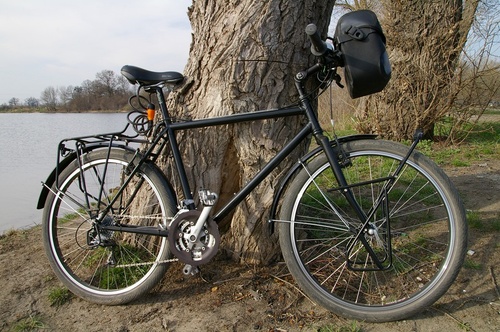 On a test offroad ride